Capital Allowances Podcast
Brendan Sharkey · July 20th 2022 · read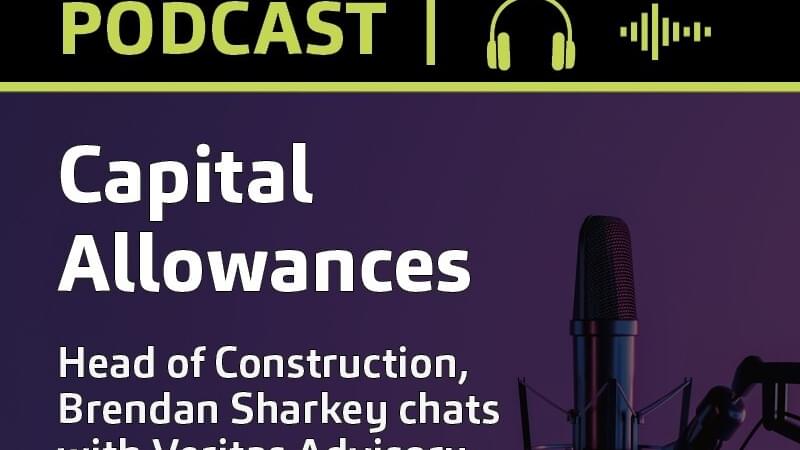 Capital Allowances are designed to stimulate business investment in the economy by providing an increased incentive for businesses to invest in capital assets; and the tax relief can often be found in more areas than first thought!
Listen to our latest Great Conversations podcast below
Head of Construction, Brendan Sharkey talks to our friends at Veritas Advisory Limited - Clive Curd a Chartered Surveyor and Director and his colleague Polly Burn, Business Development Manager and Kwang - Sung Chun a Senior Consultant for their insights on:
Build to rent & furnished holiday lets
Care homes, student accommodation & hotels (dwellings, including plant & machinery)
Office (cladding, decorative fins, solar shading)
Retail (fixtures & fittings, panels, fixings)
Industrial
GP's
Offshore
Second hand acquisitions
We hope you find this podcast useful and informative and if you have any questions or would like guidance related to your individual circumstances, please get in touch
Our Speakers
Brendan Sharkey - Head of Construction & Real Estate
With over thirty years dedicated service to MHA MacIntyre Hudson, Brendan has worked with a wide range of businesses including quoted companies, as well as owner managed businesses from a large cross section of sectors. Brendan has led our Construction & Real Estate sector for many years and has built up a wealth of knowledge which he uses as the basis for strategic advice within the sector.
Clive Curd - Chartered Survey & Director, Veritas Advisory
Clive acts for a variety of property investors as well as corporate clients on all types of property, from data centres and dairy factories, to football stadia and student accommodation, as well as the more typical commercial property. With over 25 years of experience, Clive has successfully created asset allocation guides for clients, to be used by both tax and non-tax specialist users to correctly depreciate property assets. His extensive experience negotiating with HMRC and understanding claims and their scrutiny by HMRC is key to maximising claims on behalf of clients. He has also been involved with the tax depreciation systems employed by many countries around the world, liaising with local tax consultants to formulate policy for companies that operate in many countries.
Polly Burn - Business Development, Veritas Advisory
Polly, started her Business development career, professionally within the construction industry in 2011 and collectively has 15 years sales, marketing and business development experience. Polly set up her own consultancy in 2018 and has consulted for a variety of clients, including, large corporates, SME's, representing individuals & launching start-ups into the UK market, all within the built environment arena.
Kwang-Sung Chun - Chartered Surveyor, Veritas Advisory
Kwang is a Chartered Surveyor in Taxation Allowances, where his technical knowledge and understanding of the built environment at the highest level have allowed him to analyse the building and expenditure information to the highest detail; leading to substantial savings for clients over a wide range of sectors including The O2 Icon Outlet in North Greenwich and The Standard Hotel in Kings Cross. Recently, Kwang has been advising some of the major institutional investors in Korea and other East Asian countries, where his cultural background and linguistic skills have enabled him to ensure all available allowances are secured by prechecking entitlements and future tax positions before deals are completed.
Upcoming Podcasts
We have a range of Great Conversations planned on topics including Capital Allowances, Professional Indemnity Insurance and ESG. You can listen to them all online here or download them by using Apples iTunes of Google Play.