Insolvency in the Construction & Real Estate Sector podcast
Brendan Sharkey · December 2nd 2022 · read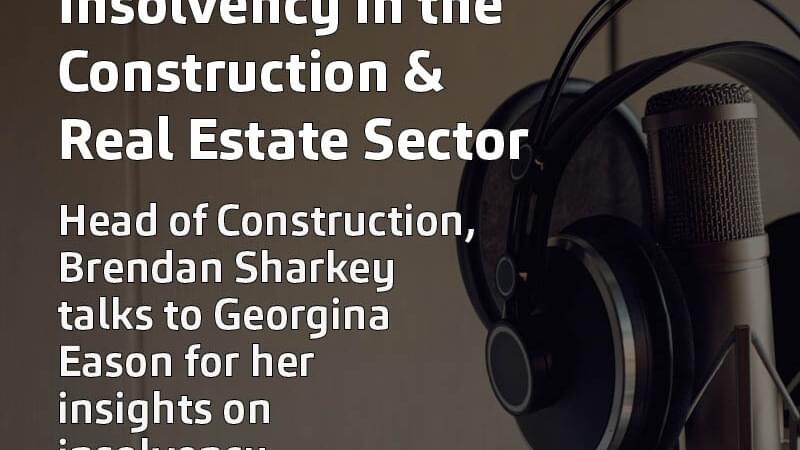 In our latest podcast Head of Construction, Brendan Sharkey talks to Georgina Eason for her insights on insolvency. Whilst not a favourite topic for business owners, understanding the process, options available and legal obligations is essential in the current climate.  
The construction industry experienced the highest number of insolvencies in the second quarter of 2022 with 3,665 failures, accounting for 19% of the total, or almost one in five. There were 5,629 company insolvencies registered in Q2 2022, 13% higher than the previous quarter and 81% higher than during the same quarter in the previous year. This is the highest figure since 2009, just after the global financial crisis in 2008. 
Listen in full below
Brendan Sharkey - Head of Construction & Real Estate
With over thirty years dedicated service to MHA , Brendan has worked with a wide range of businesses including quoted companies, as well as owner managed businesses from a large cross section of sectors. Brendan has led our Construction & Real Estate sector for many years and has built up a wealth of knowledge which he uses as the basis for strategic advice within the sector.
Georgina Eason - Restructuring & Recovery Partner
Georgina joined MHA in 2008 and was promoted to Partner in 2009. She is both a licensed Insolvency Practitioner and registered Fixed Charge Receiver. She manages a number of distressed properties. Her main focus across all appointments is to provide the best possible return to charge-holders/ creditors. Her experience stretches across various sectors. Also within her portfolio are a large number of complex bankruptcies, numerous insolvent liquidations, solvent reconstructions and liquidations, CVAs and Administrations.
Upcoming Podcasts
We have a range of Great Conversations planned on topics including Capital Allowances, Professional Indemnity Insurance and ESG. You can listen to them all online here or download them by using Apples iTunes of Google Play.