What is the Energy Savings Opportunity Scheme and the ESOS audit requirements?
Mark Lumsdon-Taylor · September 22nd 2023 · read
The Energy Savings Opportunity Scheme (ESOS), set up by the Department of Energy and Climate Change (DECC), mandates large organisations to conduct audits of their energy use.
Qualifying organisations are required to measure the energy consumed in their buildings, transport and industrial processes, carry out energy audits and report their compliance.
Compliance can be achieved by either implementing an ISO 50001 energy management system covering all energy use or by appointing a Lead Assessor to carry out audits and/or review a variety of compliance routes.
ESOS Reporting Requirements
A Measurement of energy use
An on-site energy audit
Identification of cost-effective energy efficiency recommendations
Report compliance to the Environmental Agency
ESOS Scope
Eligibility
You have 250+ employees
Your organisation's turnover exceed £42.5m
You have a balance sheet of £36.5m+
Scope
A measurement of energy use
An on-site energy audit
Identification of cost-effective energy efficiency recommendations
A compliance report, submitted to the Environmental Agency
Action
There are multiple routes to compliance available to participants in the scheme:
Commissioning ESOS energy audits through approved ESOS assessors
ISO 50001 certification
Display Energy Certificates (DECs) and accompanying recommendation reports
Green Deal Assessments
How do you comply with the ESOS scheme?
To comply with ESOS, you must:
Measure the energy you consume in buildings, transport and industrial processes
Audit areas of significant energy consumption through one of the methods in the table below:
Route to compliance
Application
Required Resources
ESOS Energy Audits
All energy uses (buildings, processes and transport)
Energy Auditor and Lead
Assessor
ISO 50001 Energy Management System
All energy uses
ISO 50001 Auditor
Display Energy Certificates (DECs)
Individual buildings
DEC Assessor and Lead
Assessor
Green Deal Assessments
Individual buildings
Green Deal Assessor and Lead
Assessor
Benefits

lighting: Double-digit % annual savings are possible.
Building Energy Management Systems: Take control of energy costs.
Consumption Reporting: Measure, manage and reduce your costs by understanding what you're using, when, where and what it's costing.
Power Factor Correction and Voltage Optimisation: Eliminate the costs on the bill that you don't have to be paying.
Strategy: Join practice to process in order to implement a rolling programme of efficiency and cost reduction
Heat Recovery: Formulate a recovery strategy to recover and re use this valuable commodity.
Signing off

Once a Director within your organisation, and the Lead Assessor, has signed off your ESOS assessment, you will need to provide notification to the Environmental Agency that you have complied with the terms of ESOS on or before the compliance date

Penalties
Civil penalties can be enforced for organisations that qualify for ESOS but are found not to comply. Failure to notify the Scheme Administrator that your organisation has complied can result in;

A fixed penalty of up to £5,000
£500 charge for each subsequent day after the compliance (80 day max.)
Failure to maintain adequate records of compliance results in similar penalties, whilst an outright failure to undertake ESOS will result in

A £50,000 penalty,
£500 fine for every subsequent day that the organisation remains non-compliant,
Publication of non-compliance details
The Provision of misleading or false statements within the ESOS assessment will result in a monetary fine in excess of
£50,000.
Consumed and 'Unconsumed' Supplies
Energy supplied to and consumed by a participant across all of their assets and activities, either from an energy supplier or from energy generated by the participant, will be included within the scope of ESOS. Unconsumed supplies are defined as supplies that you do not consume, but provide to a third party.
In order for these supplies to be deducted from your total consumption you will, again, be required to provide verifiable data. If you are unable to reasonably measure the energy consumption supplied to third parties, you will be required to include this consumption within your own total consumption.
Potential sources of energy consumption are shown in the below chart;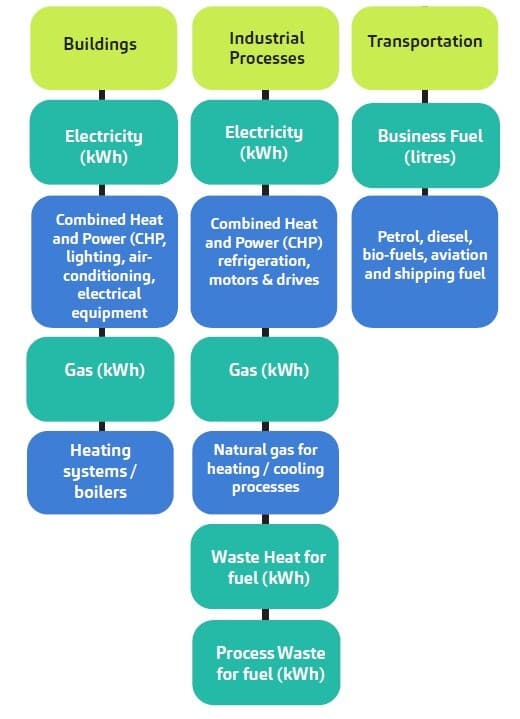 A final monitoring metric must be agreed on - ideally, all of your energy consumption should be converted into energy units i.e. kWh